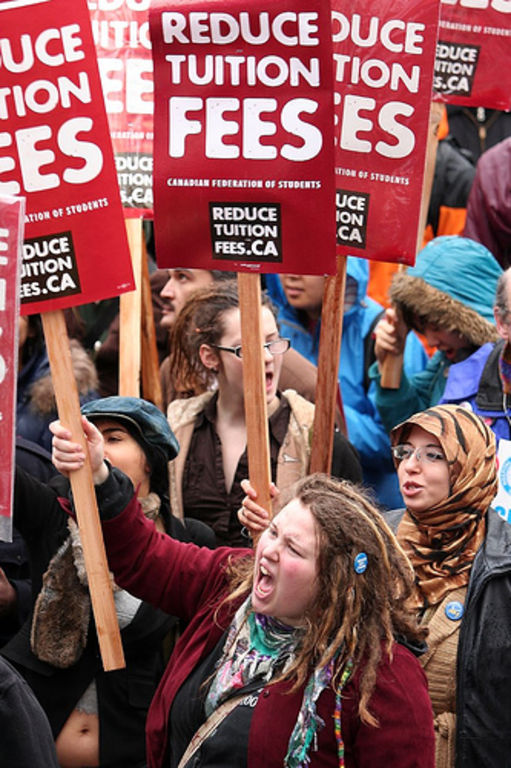 Disclaimer:
The opinions expressed in this article reflect those of the author and not necessarily of SFU Volunteer Services.
As a student who has fought hard to get back to school to finish my degree, I believe that the issues of tuition fee hikes and of post-secondary funding cutbacks are important.  In order for Canada to continue to compete fiercely on a global scale, it needs to support post-secondary education. However, as many students can attest to, tuition fees have continuously increased the past few years; funding for grants and scholarships, on the other hand, has decreased.
In fact, last September, the Simon Fraser Student Society (SFSS) "has condemned the major update to the 2009/10 B.C. Provincial Budget delivered from Victoria". This update has cut post-secondary funding by $70.9 million compared to the original proposed budget. This then brings up a good question: Are we, the students, doing enough to oppose these cuts? Surely if we were doing more, the BC government won't be cutting out funding to post-secondary services at the same time when it is also running its biggest deficit in history.
To answer this question, I've looked at some of the campaigns organized by students related to this issue.  One interesting campaign was headed by The Alma Mater Society (AMS), UBC's student union.  AMS, with the help of Pivot Legal LLP, filed a complaint to the United Nations alleging that "the Canadian and B.C. governments have violated a human-rights treaty by not ensuring post-secondary education is accessible to everyone". Interestingly enough, AMS later voted unanimously to withdraw this complaint because the motion was in fact submitted to the UN without proper consultation with UBC students and with the student council.  In addition to the retraction of the UN complaint, the AMS council also asked for the resignations of President Blake Frederick and Vice President External Affairs Tim Chu. While this campaign seems to have failed because the AMS president didn't go through proper avenues, it seems to have at least sparked discussions around the issue – at least within the UBC campus.
At SFU, the SFSS also has organized a few campaigns (some of which are outlined below), although none is as controversial as the AMS UN complaint. One thing that's apparent, however, is the lack of real or significant student engagement. The Save SFU Community Coalition Facebook group, for instance, only has 145 members. Given that there are thousands of SFU students, this number seems awfully low. I am happy to see that the SFSS is using social media to advocate this issue, but I also couldn't help but wonder if we can do more to encourage student participation. Since I've came back to full-time studies this September, I am yet to see any grassroots campaigns around campus to push engagement. As a generation, it seems like we all know that this is an important issue, but we're not really willing to do something about it.
Just to be clear – this post is not a criticism of the SFSS. I suppose this is more of a rant about how passively students accept tuition fee hikes and decreased government funding as a fact of life. We need to be more outraged, more aggressive and – most importantly – more innovative in getting our government officials to hear us out.
If you're a student and you care about this issue, here are some things you can do now:
Contact your local MLA. Hold your local MLA accountable about this issue. Every time election time comes, it also seems like politicians use the required rhetoric to address this issue, but that rhetoric rarely translates into action.If you're unsure how to contact your MLA, you can go to this page.
Send a message to the Minister of Advanced Education and Labour Market Development. Help the SFSS campaign to tell the minister that cutbacks need to stop! Click here to send a direct message to Minister Moira Stilwell to let her know what you think about this issue and how it is affecting you as a student.
Join the Save SFU Community Coalition Facebook group. The Save SFU Community Coalition is a coalition of community groups at Simon Fraser University fighting for fair funding to maintain high-quality, public education. Join their Facebook page to get updates about the coalition, read about updates regarding this issue and participate in the discussions.
Most importantly, talk about this issue – to your friends, to your family, to your fellow students, share links through Facebook & Twitter, etc. The first step towards a significant student engagement begins with YOU!  Do not underestimate your power in getting the word out about this issue. In fact, our best tool in getting the attention of our politicians at this point is probably word of mouth.
Wondering how funding cuts have affected other SFU students so far? Watch this video created by the SFSS.
By Kelvin Claveria