The Data Visionaries Series: Data and Democracy
April 9, 2019 -

12:00

to

1:00pm
SFU's Big Data Hub - Presentation Studio ASB 10900
From fake news to foreign press, political interference to informed truths, big data is changing how we perceive and participate in our democracies. This spring, Simon Fraser University explores the opportunities and risks of the citizen-led demand for data in the current Internet age.
---
CAN GOVERNMENT DEFEAT TERRORISM BY DISTRACTING THE PRESS?
Limiting the attention countries receive from the foreign press is thought to reduce the incidence of deadly terrorist attacks—but, by how much? Some countries stand to benefit more than others. Yet, the data reveals that reducing press attention produces, at best, only minor reductions in the number of deadly foreign terrorist attacks countries experience. SFU professor of Political Science, Aaron Hoffman delves into why pursuing this strategy may not provide as much security as governments expect.
Speaker: Aaron Hoffman, professor, SFU's Department of Political Science
Moderator: Peter Chow-White, professor and director of SFU's School of Communication and the GeNA Lab.
ABOUT THE SPEAKER:
Aaron Hoffman is an associate professor of Political Science at SFU, where he specializes in international politics. His research focuses on communication in matters of international security. Specific projects include work on the coverage of terrorism by the mass media, public support for US military operations, and trust in interstate conflict. Previously, he worked at Purdue University, where he created the P2P: Paper to Publication Workshop, a course designed to teach students how to get their research published.
Presented By: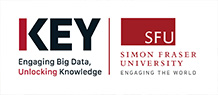 Sign up to learn more about big data at SFU