The Data Visionaries Series: Precision Health
September 25, 2019 -

6:00

to

8:00pm
SFU's Big Data Hub - Presentation Studio ASB 10900
October 2, 2019 -

4:30

to

6:00pm
SFU's Big Data Hub - Presentation Studio ASB 10900
Data is changing how we view and approach healthcare, enabling better patient care through precision health and healthcare analytics. This fall, Simon Fraser University explores the opportunities and risks of big data approaches in the healthcare industry and its impact on health care providers and user's privacy.
---
THE FUTURE OF HEALTHCARE: DATA, ANALYTICS AND EMPOWERMENT
Wednesday, Sept. 25, 2019
As healthcare analytics enable the industry to move towards patient-centered care, critical conversations around balancing privacy and innovation are needed. Healthcare analytics empowers providers to make data-driven decisions that reduces health care costs and improve patient outcomes. But at what cost?
Join SFU and other leading experts as they explore topics around data privacy, policy and emerging technologies' impact on patient-centered care.
Speakers:
Ohad Arazi, Chief Strategy Officer and Vice President, TELUS Health
Fiona Brinkman, professor in Bioinformatics and Genomics at Simon Fraser University
Muhammad Mamdani, Founding Director, Li Ka Shing Knowledge Institute of St. Michael's Hospital
Moderator: Fred Popowich, scientific director, SFU's Big Data Initiative
---
THE BEAT MUST GO ON. CAN PERSONALIZED MEDICINE INTERVENE IN SUDDEN CARDIAC ARREST?
Wednesday, Oct. 2, 2019
Numerous inherited cardiac arrhythmias, that when triggered, can result in chaotic electrical activity in the heart, causing ventricular fibrillation (VF). Without intervention such as defibrillation with an automated external defibrillator, the body can only survive a few minutes of VF before death ensues. Innovative technologies in the last decade give hope that these conditions can be detected early and perhaps prevented.  The transformative technology of induced pluripotent stem cells (iPSCs) in which one can take adult cells from an individual (e.g. blood, skin) and reprogram them into pluripotent (ability to be converted to any cell in the body) stem cells won Shinya Yamanaka the Nobel Prize in 2012.  This advancement coupled with genome editing techniques (e.g. CRISPR) are enabling incredible advances in personalized medicine that will be discussed in detail in this talk.
Speaker:
Glen Tibbits, Investigator, BC Children's Hospital. Professor, Biomedical Physiology and Kinesiology, Simon Fraser University. Canada Research Chair in Molecular Cardiac Physiology
Moderator: Fred Popowich, scientific director, SFU's Big Data Initiative
Presented By: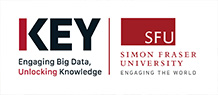 Sign up to learn more about big data at SFU